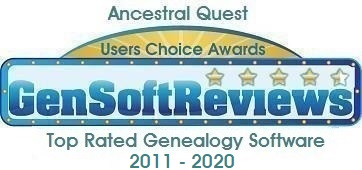 Ancestral Quest continues to receive the "Top Rated" Genealogy Software award on the GenSoftReviews website. This award is determined by users of the various genealogy programs. Out of a possible highest score of 5, Ancestral Quest received a score of 4.49. Ancestral Quest has been a "Top Rated" software program on the site since 2011.
On the program description page of our site, you will find a description of the program and its features, along with links to detail pages.
The Features List identifies the many features found in Ancestral Quest.
What is the difference between Ancestral Quest and Ancestral Quest Basics? This comparison chart will give you all the details.
If you have an older version of Ancestral Quest, you may be interested in seeing the new features in the program.
A detailed history of the Ancestral Quest versions is available.
Ancestral Quest has the the ability to handle special events unique to the Jewish community.
Special Features for LDS Users
There are several features that we have developed to help LDS users with their genealogical needs.
Special Features for PAF Users
Ancestral Quest is a little like PAF's 'big brother.' We have information on how easy it is for a PAF user to work in AQ.
You can easily download Ancestral Quest, right here on our site.